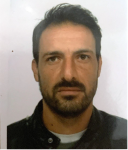 ALESSANDRO BERNARDINI
OC President
Dear Athletes and participating countries,
I'm the President of the Organizing Committee of this 6 ͭ ͪ Edition of the Deaf European Futsal Championship, and I'm truly honored to host this special occasion. This event is particularly important and meaningful to me, because I am a strong supporter of the Sport World and I will put all my effort to make all Futsal fans satisfied and happy. You all are welcome to come to the Abruzzo region for this wonderful sporting event, in a land full of culture and tourism, in the city of Montesilvano. I would like to thank all the Institutions - national, regional and local governments - for their various contributions: this support gives us the possibility to host a top level competition, the "Deaf European Futsal Championship". Good luck to all the participants!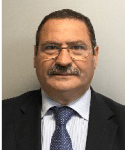 GUIDO ZANECCHIA
FSSI President
Dear athletes and participants from all over Europe,
the FSSI – Italian Federation of Deaf Sports, the Municipality of Montesilvano and the Organizing Committee, accepted the responsibility of organizing the 6 ͭ ͪ Edition of the Deaf European Futsal Championship. Our philosophy is always to give to deaf athletes the chance to fulfill the dream of competing a European Championship, restoring their right to take part in this event they have been waiting for four years, after sacrifice and hard training, making them proud to represent their countries without distinction of any kind. Futsal is a very important and very popular sport and we are pleased to host this event in Montesilvano, as it is an Italian municipality that hosted the Champions of the hearing finals and I am sure that the public will also be able to appreciate our deaf champions. I am sure that you will participate with enthusiasm and commitment: victories and defeats will not reduce that respect for the values of sport which, thanks to you, will be enhanced. At least, I want to thank FSSI board members for their moral support, the federal offices for their efforts supporting this important event that for the first time will be hosted in Italy.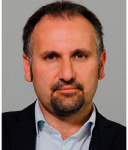 GUIDO QUINTINO LIRIS
Councilor-head of sport department
Greetings from Councilor Guido Quintino Liris

Undoubtedly adequate sport infrastructure is of utmost importance, but the social and educational value of sport - seen as a powerful tool of inclusion and cohesion – is unquestionable. For this reason, Regione Abruzzo strongly supported the International Junior Futsal Tournament held in Montesilvano. Sport plays a fundamental role in the educational process, it is a reflection of our society, able to instill positive values and attitudes as well as a tool to overcome inequality and exclusion teaching us how to improve and give more. Besides, sport represents a universal language, it demonstrates that language, race and cultural differences can be opportunities rather than obstacles. It is synonymous with commitment and perseverance challenging us to push our limits: those aspects become even more crucial for people affected by disability who take the risk every day.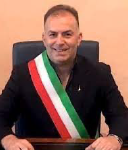 OTTAVIO DE MARTINIS
Mayor of Montesilvano
Greetings from the Mayor Ottavio De Martinis

We have great pleasure to welcome all athletes and their companions who will be coming from all over Europe to compete in the European Deaf Futsal Championships. Montesilvano is looking forward to hosting this event and meeting you all. We have already hosted similar events in the past dedicated to the deaf.  This opportunity gives us immense joy and we will make sure you feel at home. It's a wonderful occasion to be together and experience the beauty of sport. Events like this do more than just sport, we broaden our horizons and get to know other cultures.  We wish all the participants good luck and the best experience!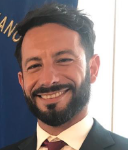 ALESSANDRO POMPEI
Sports councilor of Montesilvano
Greetings from the sports councilor Alessandro Pompei We are extremely proud to announce that we will host a new important international event.   We are not only talking about sport at a competitive level but also in terms of  sociability, aggregation and equality.  Montesilvano is situated on the Adriatic coast and  it is a perfect location to host sports events due to its  excellent accommodation facilities. The municipal administration is ready to help you in anyway and we will do our best to make your stay pleasant. The event organizer will do the rest to make sure everything runs goes smoothly.
MATTEO PERAZZETTI
Mayor of Città Sant'Angelo
Greetings from the Mayor Matteo Perazzetti

It's a great honor for me to be able to host the European Futsal Championship, in Città Sant'Angelo. An appointment that, i'm sure, will attract the interest of the many fans of this beautiful sport. It will not only be an opportunity to see played futsal at very high levels but it will be an opportunity to let the whole of Europe discover the beauty of the landscape, the monuments, the art and the food of Abruzzo. Good luck to all participants and welcome.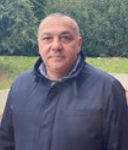 ANTONIO ROMANO
Sports councilor Città Sant'Angelo
Greetings from the sports councilor Antonio Romano.

We're honored to host this sport event, an important European Championship. We offer you our sport and accomodation facilities in our beautiful Città Sant'Angelo, listed as one of the ten most beautiful city where to live in the world according to Forbes. It is situated between mountain and sea and it is surrounded by art, histor, culture and food. We wish you a wonderful stay and good look to all!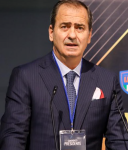 LUCA BERGAMINI
LND FUTSAL Division President
Greetings from the President LND FUTSAL Division

There has always been a very close link between the activities of Futsal Division and that of the FSSI.  Players and clubs who regularly participate in the deaf Futsal championship can also be found within the activity and in deaf futsal teams, this testifies to the absolute value of the athletes who take to the field.  Furthermore, the national team has given us great joys in recent years, such as the bronze won at the 2018 European Championship and this appointment aims to be a real driver for the whole activity.  I send my sincere wishes to everyone, starting with President Guido Zanecchia and all his Federal Council, and above all to the boys of the National team, aware that this will be an event organized in a meticulous and impeccable way.